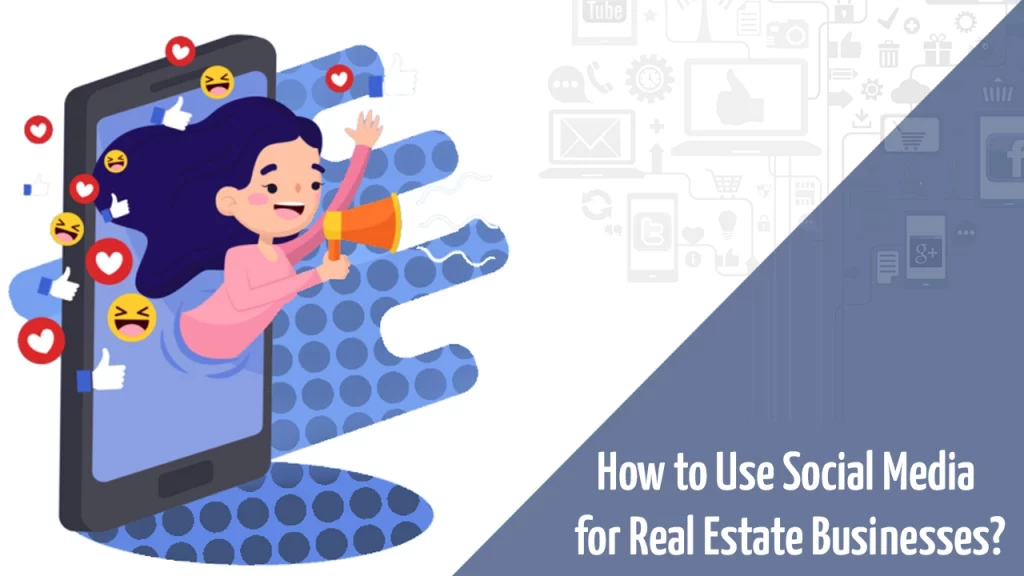 Real estate social media marketing sounds avantgarde to many, but Google analysts argue otherwise. Digital marketing is a dynamic branch. According to a study conducted by the National Association of Realtors over 77% use social media to promote their businesses.
For countless real estate businesses, hunting for homes is no longer done in a real estate office. And why would it be, when they have the Google search bar to do it for them? Also, purchasing a home isn't a financial choice only but an emotional one, too.
So, to successfully promote a real estate business on the hottest social media channels – Facebook, Instagram, Google, and then some – realtors must consider their buyers' habits and preferences. They also need to be quite exerted at conducting the utmost social media marketing for real estate agents.
What does it take to put social media marketing and your real estate business together?
Below, we will be going through the best solutions and tips for effective real estate marketing on social media.
Online Marketing 101: How to Promote Real Estate Business on Social Media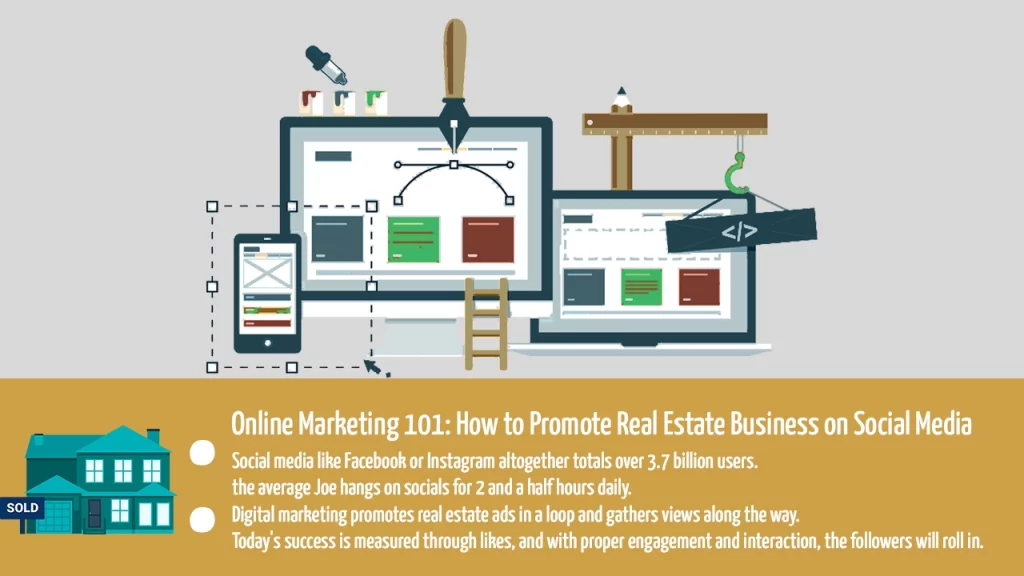 Social media like Facebook or Instagram altogether totals over 3.7 billion users. Not just that but it's estimated that the average Joe hangs on socials for 2 and a half hours daily. Real estate steps up to the scene, carrying the numerous advantages of marketing on social media. Why? Because it bonds with users better than any other industry.
Digital marketing promotes real estate ads in a loop and gathers views along the way. With such reports, realtors have a clear perspective on buyers' interests in their services and products. As opposed to traditional marketing, a more restricted one, not only geolocation-wise but in terms of time zones, too.

TV marketing can hook a potential buyer only if they patiently watch the ads and resist the urge to surf the channels. And, the same goes for billboards. No matter how big your ad is – it's still far behind the powers of social media ad loops.
Therefore, we share a few tips on how to promote a real estate business on social media.
Gain Image
The best advantage of marketing through socials is that you can instantly get noticed. Today's success is measured through likes, and with proper engagement and interaction, the followers will roll in.
Yet, aside from Instagram, realtors must consider Google+ options to get noticed on the populated market. Google+ is a social platform worth considering because it can be accessed through multiple platforms, as opposed to Facebook where users have to visit the page to share their content.
User Testimonials Do the Trick
Through a social media post, not only do you get noticed but obtain brand loyalty, too. Approximately, 92% of potential customers – in real estate and otherwise – read reviews before buying anything.

Building trust with buyers physically is preferable to online, but realtors can show they can be trusted with buyers' testimonials.

Therefore, sharing happy customer experiences is one of the most effective real estate social media best practices.
Host Open House Events
Homebuyers want to visit the house they're about to buy – to see if it feels like home. And it's natural, as a proper visitation to their potential new home will let them know if the price is right if the place needs more fixing, etc. So, the best thing you can do here is to host open house events and announce the happening on social media.

Homebuyers who are interested in visiting will be notified of the event ahead of time, and the service, well, we'll leave that to your experience.
If using Facebook, you can basically create the event and specify all details related to the open house. When sharing on Instagram, post a story and a photo of the property, and feature an agenda of the event. Ask visitors to share the event as well, for maximum efficiency.
How to Use Social Media for Real Estate Agents: Top 5 Real Estate Social Media Tools
Nowadays, it's nearly impossible to tag social media trends without the proper tools. Facebook and Instagram count billions of users – which makes it almost impossible to trace users' behavior using their basic features. To help your case, read on as we go through the best tools of social media for real estate agents to boost their business.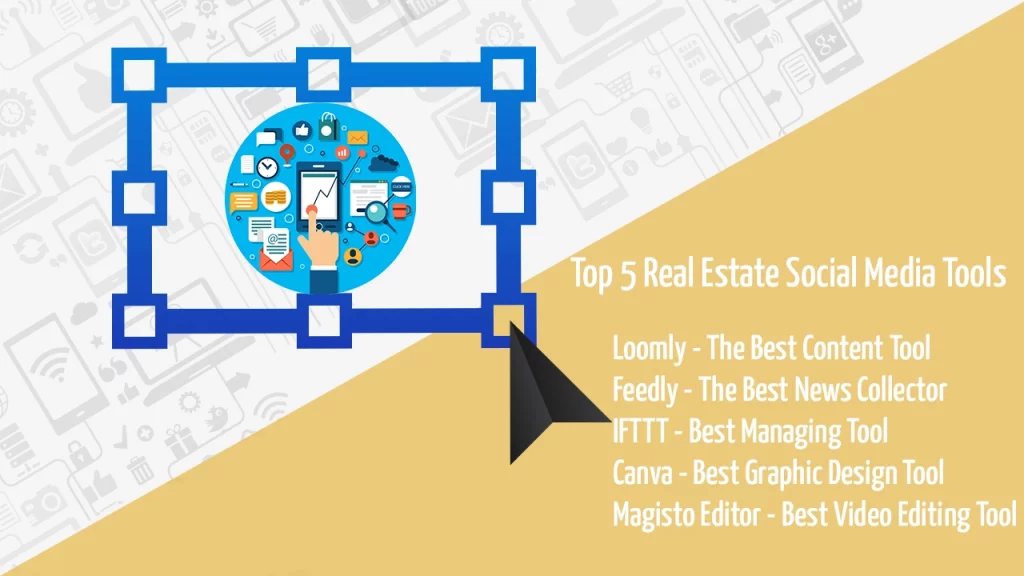 Loomly – The Best Content Tool
Loomly is a practical social media tool, useful for content inspiration, tracing content across various platforms, and managing.
Essentially, Loomly saves you time and energy as it can easily search the hottest platforms for the latest searches, or overall user behavior. It also plans, organizes,
and manages changes as they come.
With such progressive analytics, you have a clean slate to grow your business, worry-free of any obstacles along the way. Loomly comes at an affordable price,
and there's even a free trial of 15-days to test the software.
Feedly – The Best News Collector
Feedly collects content from various sources and stores it on a personal web page. Basically, it will gather every newsworthy data regarding real estate, and that also goes for images, videos, and even podcasts.
The advantage of having Feedly as your asset is that you won't have to browse popular journals like The Wall Street Journal, Inman News, Realtor. org manually. Feedly is programmed to retrieve valuable and trending information to the sites you find useful, not just popular journals. Think, competitors. The cherry on top, Feedly is synced with social media tools like IFTTT, so you can arrange social media posts straight from Feedly.
IFTTT – Best Managing Tool
IFTTT is short for If This, Then That which infers the most obeying tool you can have an asset. This tool can be synced to multiple apps to create simple conditional statements, hence if this, then that. As a result, you get more time-efficiency and greater managing.
Use this tool to maximize your time and minimize your daily duties. For example, instead of manually posting an Instagram story daily, you can schedule IFTTT to do it. Moreover, as realtors don't have a fixed schedule, you can arrange IFTTT to get more results about your habits based on your daily activities.
Canva – Best Graphic Design Tool
Canva is a graphic design platform where everyone has a chance to create a professional-looking design. Incorporating graphic design into your real estate business is valuable because it hooks the audience the fastest.
On the platform, there are various graphic design elements and tools you can use to create the most original graphics – be it images, content, a mix of the two, or animations.
Magisto Editor – Best Video Editing Tool
Magisto Editor is a simple video editing tool. It lets you add music and narration, and the two easily tie in your real estate photo story. The best thing about the Magisto Editor is its vast music library, tuned to everyone's creative flavor.
Magisto is the best tool to touch up live home tours. Add music to the visuals, and you got yourself a social media marketing for real estate knockout.
Real Estate Social Media Ideas and Tips
When it comes to the practical use of social media marketing for real estate agents, here are some tips and real estate social media ideas to consider:
Think Outside the House
Real estate isn't only selling a house – but an entire neighborhood. Homebuyers don't want to see the quality of a house, but its surroundings, too.
So, Facebook and Instagram allow you to connect with the world of buyers – and all you need is a hashtag and the location. Hashtags may seem dated but countless real estate businesses still find them extremely effective when used properly. That said, make sure not to overuse them but subtly implement them into the description.
Fill Up the DMs
Instagram and Facebook allow you to communicate with your clients through direct messages, comments – whatever suits your real estate business. Most real estate businesses use DMs for communicating with clients, simply because it's a more organized way to interact. Still, other businesses will respond to comments in order to show transparency. With either option – communication is an important aspect to include.
Obtaining communication in person, or on the phone is passive and way slower of a tool compared to socials or DMs. Realtors have the chance to connect with a possible buyer audience outside their geolocation and hook a potential buyer upfront.
Lastly, thanks to their larger audience, realtors can chat about the details of a house with more potential buyers than before. With 20 customers at a time, every day – blessed be the copy-paste function.
Going Live
Potential home buyers want to see facts about the house and neighborhood market. That said, blogs and photos don't always work in the realtor's favor since potential customers want to see the bigger picture.
So, going live on Facebook or Instagram while walking around the area will not only paint a better picture for buyers but will also help you share real-time information regarding the current state of the property. Also, realtors can save these live tours as videos in a live-video album.
On Instagram, realtors can save the live tours in a highlight, so that everyone who visits the profile will easily find them. With this, interested homebuyers can check out the tour anytime. Still, it's crucial to brand the highlight with a catchy name – users are prone to clicking when they read an appealing title.
Social Media Restrictions: What to Keep a Watchful Eye on
Theoretically, real estate benefits for social medial marketing – a lot. Still, the issues mostly arise in practice.
Since real estate ads have a specific target audience, meaning they exclude and include individuals – the Facebook algorithm automatically bans the Ad. This is because it considers it discriminatory, even if the intention is far from it. A Facebook algorithm is fixed to detect any discrimination, be it racial, ethnic, gender-based, religious, cultural, etc.
The second issue is that Facebook implemented a feature, or more like a confirmation stating that any housing, employment, or credit advertisers' ads are within the frames of the anti-discrimination terms and conditions. This feature is called self-certification.
Previously, this certification button was in the Ad creation popup box. When you'd click on the Boost button, you'd automatically share the posts on the page. And in case the Ad was discriminatory, Facebook would send a message to self-certify it.
Nowadays, housing advertisers have to log in to their Ad Manager or Business Manager in order to post ads. Not by choice, but because the certification button is still in effect. So, if your ad gets banned, you have to click the certification through Ads Managers. It's better to self-certify from the start instead of wasting time to unlock your ad.
What is Redlining?
Redlining means not allowing a loan or insurance to someone, mostly due to them living in an area considered as poor. This basically minimizes any financial risk a company or a bank could face. On such occasions, Facebook waves off the right of marketers to promote a business based on geolocation, mostly because it's discriminatory as it excludes certain groups of users.
Ami Vora, Vice President of product management at Facebook, reported that Facebook's anti-discrimination system successfully flagged millions of ads only from housing and employment sectors. As a solution, Facebook brought up self-certification for ads in every ad category.
The Social Media Marketing for Real Estate Agents: The Setup
Realtors must know the technicalities behind effective real estate digital marketing.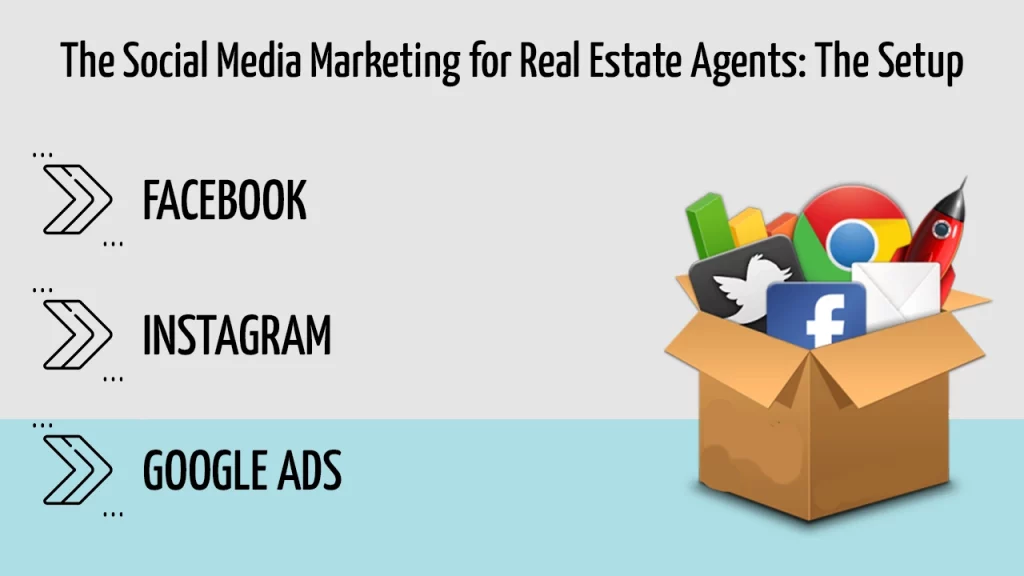 Let's go through the popular social media for real estate agents to help you promote your business on Facebook, Instagram, or Google.
Facebook
FYI, Facebook makes money on ads – and all credits go to the Ad options.

Here's how Facebook fits real estate goals:
Targeted ads for local listing – specific ads that target a local audience based on their behavior online. Also, they'll appear on local listings.
Facebook Messenger – so you can chat with potential clients.
Media Sharing – so you can share any valuable SMM item of your business including pictures, videos, and live videos.
Instagram
Instagram is second to none for advertising, especially when it comes to targeting a younger audience. Statistics of October 2021 conclude that Instagram counts for approximately 30% of the population aged between 25-34. Therefore, Instagram
comes as a fit option for selling houses to young couples.
Instagram allows you to toggle your personal account into a business one. And, the business account is designed to sell faster. In fact, Instagram includes a CTA button, so that potential users can DM you about an image or information they're curious about.
Conclusively, Instagram collects potential users, effective immediately. By putting customers and users in the same basket, and allowing them to reach out, they will become more responsive and retainable.
Google Ads
Google also allows you to target an audience based on geolocation. For instance, when potential users look for nearby free houses on Google Maps, the ads will pop up with your business. That increases the chances to get more eyes on your housing, and definitely at least one potential buyer.
When it comes to social media marketing for real estate, the numbers speak for themselves, and the importance of these tools. By using social media, real estate businesses can grow impressively and generate up to 768 leads over the span of two months, – courtesy of the 2.2 million people that come in contact with the ad you posted.

How's that for a social media marketing boost?