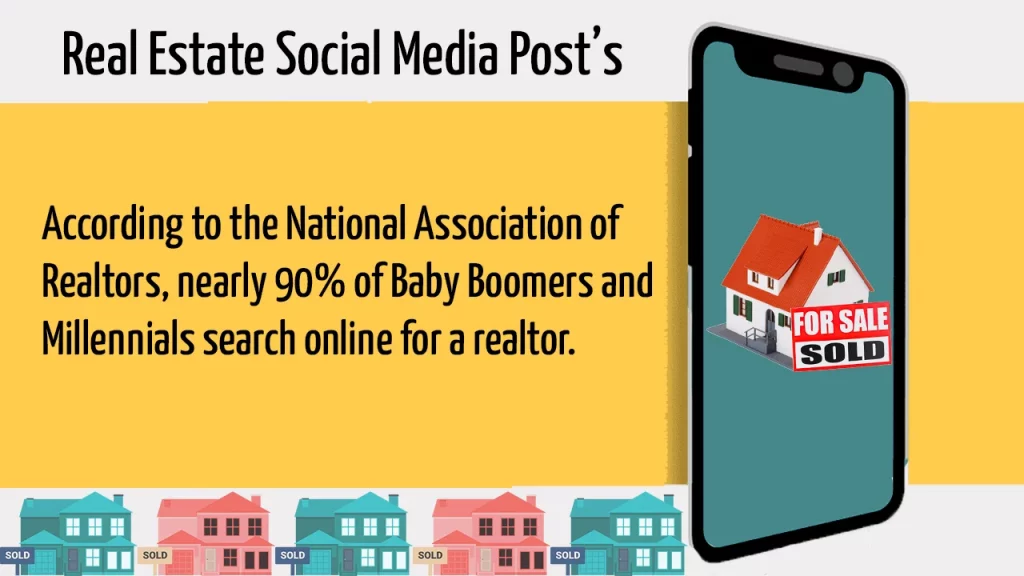 The influence of real estate social media posts is reaching new peaks with every new platform that emerges in the virtual landscape. Lead generation has always been the cornerstone of the profession, and movie buffs can vouch for that fact by referencing Glengarry Glen Ross (1992).
The all-star cast of actors realistically portrayed the competitive nature of the realtor's business. Yet, in the 21st century, quality leads are not locked in a safe but extracted online with enticing social posts.
According to the National Association of Realtors, nearly 90% of Baby Boomers and Millennials search online for a realtor.

What these numbers reveal is that social media is a goldmine. And, if you mine it with immersive real estate social media content, you can bring in lucrative profits to your brand.
It's time to stop winging it and get expert help in crafting engaging real estate social media posts that will harvest the audience engagement you strive for!
Social Media Scheduling Guide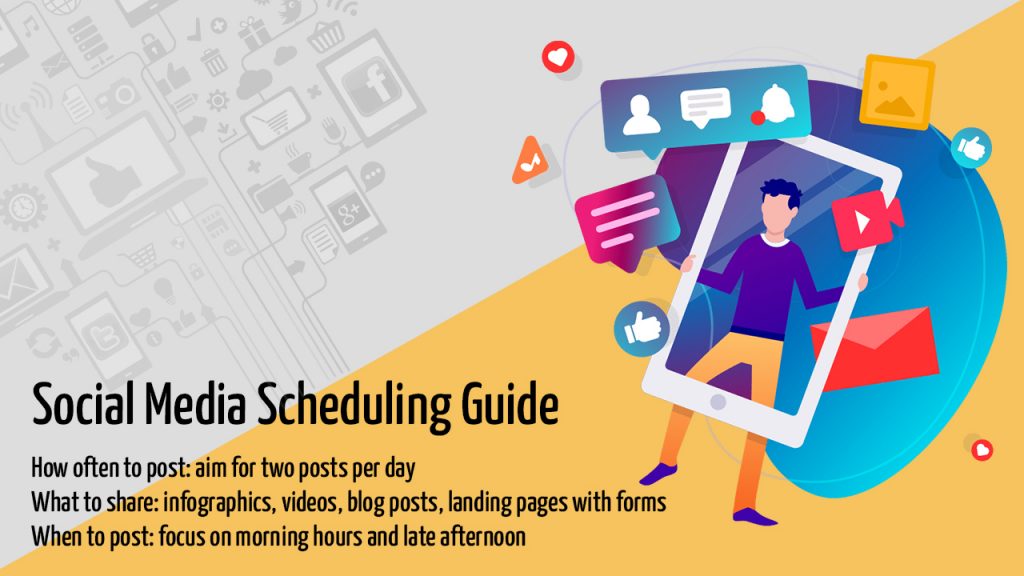 A frequently voiced frustration among realtors is that social media marketing is time-consuming. Yet, it's an investment that can pay dividends in the long run. Why? Because social media is a cost-effective promotional tool for your real estate business.
Realtors facilitate time management by using a calendar, where all open day bookings are registered. The same tool can be implemented in social media marketing plans.
Organizing a real estate social media content calendar ensures consistency, something appreciated by social media's algorithms. As a result, their algorithms can be your partner in spreading any brand message. Don't make short-term schedules but think big and plan out the entire year ahead of time.
The alternative is to be sporadic and being regularly absent from your real estate social media profile is the biggest sin in the marketing niche.
If you have doubts about how to organize your social media calendar, here are some pointers to consider:
How often to post: aim for two posts per day;
What to share: infographics, videos, blog posts, landing pages with forms;
When to post: focus on morning hours and late afternoon;
Organizing a social media calendar makes it possible to initiate automated publishing of posts, effectively creating a library of content that frees you up for other assignments.
Boost Engagements with Quotes
Even casual social media users have come across quotes – they are popping up all over the place. 
And with good reason, for those inspirational snippets, flavored with a dose of humor, distribute positive vibes and represent your real estate business accordingly.
But, we are not talking about cheering people up, here. The actual goal is to use quotes as a tool for connecting with your target audience. The whole point of social media marketing is to form friendships and inspire trust at the same time.
Quotes are becoming a staple of strategies that focus on engagement. Your Facebook profile or Twitter account is not a bulletin board for sharing external links. Social media channels serve as a tool for creating intimate connections, and here, quotes can be a useful medium to rely on.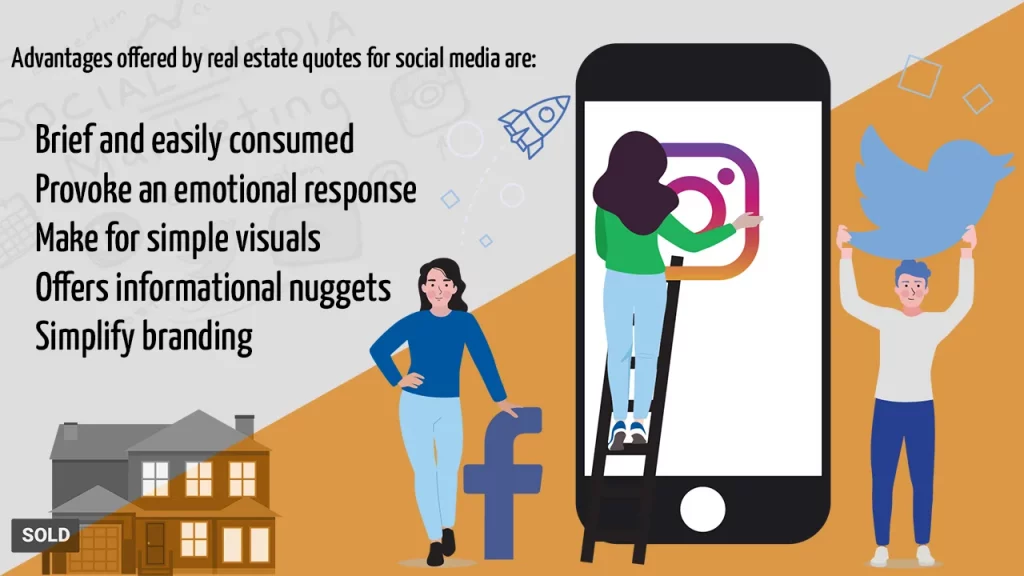 Several advantages offered by real estate quotes for social media are:
Brief and easily consumed;
Provoke an emotional response;
Make for simple visuals;
Offers informational nuggets;
Simplify branding;
A word of warning about using quotes to promote your real estate business on socials. The mission of social media posts is to promote your business objective. This can be accomplished with the help of both likes and shares, though you'll have to check under the hood and see if you are ramping up inefficient metrics.
People may love your quotes, sure, but are they clicking through to engage with your brand? A quote can bear weight if and only it comes supported by a solid strategy.
Facts Give You Legitimacy
The real estate business is numbers-driven, buyers and sellers want to learn prices, property tax rates, the square feet of the house, the total acreage of the backyard, and the list doesn't end there. Incorporating real estate facts for social media posts is a smart tactic to build credibility. 
So, focus on facts that relate to your listings or the real estate industry as a whole.
Also, keep followers in the loop with short briefs which provide updated data about the ongoing market trends.
A cautionary approach is warranted here, so make sure the information you present in your social media posts is correct. People can easily cross-reference data, and there are many fact-checkers out there that would be happy to point out a mistake that can undermine the legitimacy of your social media page.

Always check suspicious data by referencing multiple reliable sources before publishing real estate facts for social media.
Real Estate Social Media Posts Ideas: What Should Real Estate Agents Post on Social Media?
For realtors, social media is productive grounds for generating leads. The key here is to capture the interest of prospective buyers through publishing engaging posts. Solely providing routine listings or bland information will, sadly, not do the trick for your brand. 
Instead, you must constantly tweak your real estate social media content for maximum impact. But, as sustaining and growing following can be challenging, we offer 15 real estate social media posts ideas that will improve your content portfolio.
Property Video Tour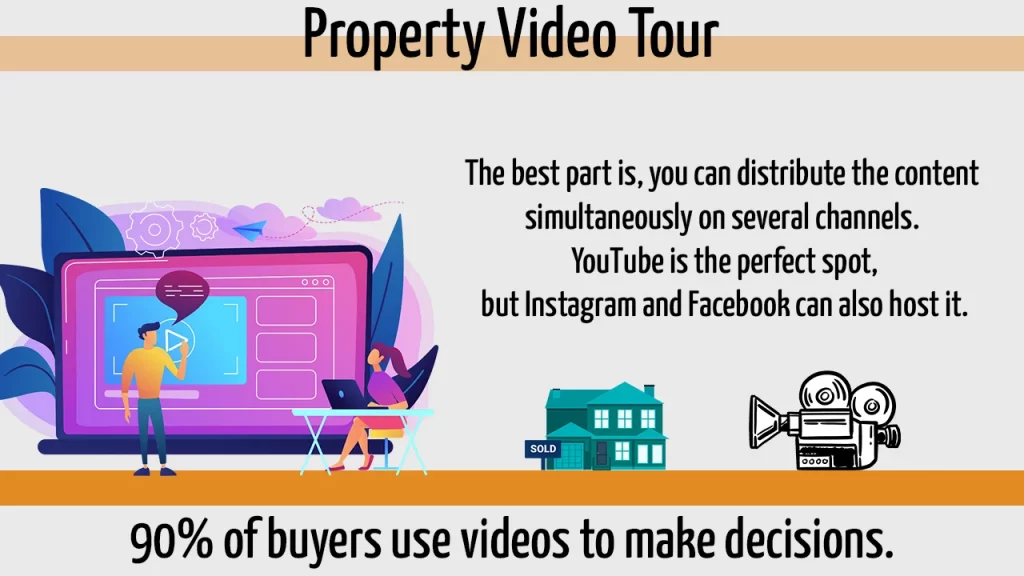 Static content can get boring and go dynamic with a video presentation that captures attention. Make every frame packed with details augmented with drone footage for a cinematic experience on a reasonable budget, that will get viewed repeatedly. Research indicates that 90% of buyers use videos to make decisions.
The best part is, you can distribute the content simultaneously on several channels. YouTube is the perfect spot, but Instagram and Facebook can also host it. This format is information-rich and always presents you as a professional.
Conduct a Poll
Opinions matter and people like to voice them. So, tap into your audience's interest with a quick poll to gauge current trends. It's not hard work, sample formats are available on every social media platform, and the collection and analysis of results are automated. Polls also offer an easy fix for stagnating engagement on your platform, because followers will not be able to resist answering the question at hand.
Testimonials
The real estate business was built on referrals. Before TV ads and online searches, people used the old fashion social network to get things done. It's a principle easily applied on a digital platform. Don't be shy, ask clients to share their experience working with you. Let them talk about how you made it possible to find their dream home. They will reshare the post on their social media profiles and create more exposure for your brand.
Giveaways
I don't want free stuff – said no social media user ever. Yes, giveaways may cost you to acquire the product, but this is an investment that will potentially generate leads as well. Announcing contests with prizes always leads to a spike in followers. Once you have them through the door, the trick is to keep them engaged with promises of future giveaways and well-established service or product offerings. In terms of giveaways, coordinate their timing with the publishing of your enticing content – one that shines a light on your top business offers.
Showcase Expensive Listings
Luxurious properties are fun for daydreaming, so maybe it's time you produce MTV Cribs type of segment. Namely, offer some eye candy for your followers with a photo collage or a video, and provide your perspective on the property. Just make sure the listings in the post get linked to your website, so the audience follows you along.
Open House
Foot traffic can get boosted by promoting an upcoming open house on social media. Tailor the invite with info about the location, time, and a few inspiring photos. If the budget allows it, offer a buffet at the house and announce the tasty spread in the post.
A Day in the Life Of Video
Realtors are mostly present on YouTube, and few have even quit their jobs to devote their efforts to creating full-time content for their respective channels. We are not suggesting you ought to take the same route; however, it won't hurt to step in front of the camera and offer a few snippets revolving around your daily activities. This is the perfect visual tool to help you connect with your audience on a more personal level.

And, together with engaging the audience, also guide it through some interesting daily challenges you face and watch that comment section explode with demands for more of the same content.
Memes
Business-related info is not always a big hit, especially if it is too structured or formal. People get tired of sales pitches, so instead, offer your audience some breathing space and opt for a related yet cheerful meme. People gravitate towards social media mostly for entertainment and love chatting with their social circle. As a result, you can cater to their sense of humor with a fun meme.

Another tip here is to always pack the content with a real estate aspect to keep it relevant. Alternatively, you can post something you personally find funny, thus revealing the actual human hiding behind their business persona.
Home of the Week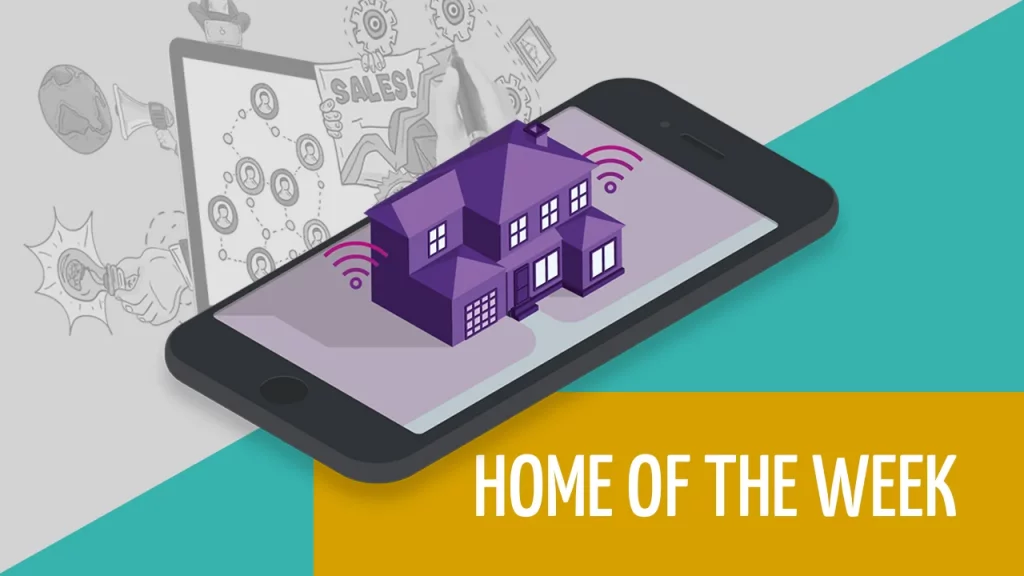 People like winners – that's why the best and top list are preferred openings for your social media posts. While at it, why not make a selection from your listing catalog?
Yes, promoting the home of the week brings more diversity into your content program.

And, it doesn't have to be a luxury estate – just a unique enough one, with a distinctive charm. If you make this post type a regular occurrence on your channel, you can almost feel the anticipation for that next post rising among your followers.
A DIY Project
Home improvement advice is always sought-after – even and especially on social media. As a realtor working with contractors is a daily occurrence, you have probably already picked up on a few projects you can include. Undoubtedly, social media is the perfect platform to share knowledge, so, engage with the audience by recommending interior decorating tips or renovation projects they can do themselves.
Q&A Posts
There are a couple of avenues on social media for building direct relationships, and the question and answers concept is a solid option for connecting with your followers. It's something frequently encountered on YouTube and has an accommodating format. However, if YouTube is not your go-to real estate social media channel, you can do the Q&A posts on Instagram and Facebook as well.
What you can do here is, you can prepare a few bullet points that cover frequent questions your audience wants the answer to. The best option to consider is a live Q&A since surveys reveal people watch live events 3 times longer than pre-recorded videos. And, don't forget to brief your audience of the streaming date far in advance.
Cross-Promotions
The diversity of social media makes it a priority to branch out your marketing plan and maintain a presence on most platforms for maximum reach. Facebook and Instagram have different demographics each, so depending on your objectives, you may lean more heavily on one platform rather than the other. 
Yet, once you have a solid footing on the social media scene, you can leverage your influence to promote your other channels and grow the follower numbers. It is not wise to invest only in one platform. Followers migrate between social media channels as their popularity declines or rises, so maintaining a social media omnipresence is advised.
GIFs
Social media followers have short attention spans, and one way to tackle that problem is by serving them GIF content. The informal looped clip is a scrolling stop, and people can't resist taking a sneak peek. GIFs are easily adaptable and can bear a short message, though a touch of creativity will turn part-time followers into regular visitors of your feed.  
Repost Old Listings
You may have thousands of followers on your social media page, but the reality is that, when a post gets published, it's not viewed instantaneously, nor by everybody. People across the globe are active on social media at different times, and so, some may easily miss out on your ongoing content. Therefore, don't hesitate to share a former – and relevant – listing, as it makes the best way to generate traffic. Tweak the original post if you will, using new and updated details, or embellish it with additional photos or text. In doing so, remember – the core message has to reflect in every one of your former or current posts.
A Neighborhood Guide
As a realtor, you probably have a specific farming area, and chances are, you know a lot about the neighborhood in your chosen business location. Buyers are not interested only in the properties you offer, but also their surroundings, the shopping opportunities at hand, the schooling options as well as park and recreation alternatives. All these factors will influence a client's decision to buy a home. Therefore, preparing a neighborhood guide will highlight opportunities for fun activities and get that audience right where you want them – in your business hood.
Final Thoughts
When tackling the marriage between social media and your real estate brand, top-notch content is your first priority to take into consideration. It may seem daunting to post daily content, but it is consistency that ultimately drives engagement.

Typically, you will need to generate one idea per day and then repurpose it in the appropriate format so it is also compatible with other social media platforms.   
If you are deficient in ideas and wonder what real estate agents post on social media, you can always find inspiration by checking out your fellow realtor's pages.
Never allow yourself to create content on the spot – invest time to deliver uniqueness.
When lacking ideas or creativity, any of the aforementioned social media post ideas will be sure to get your brand on the right path!