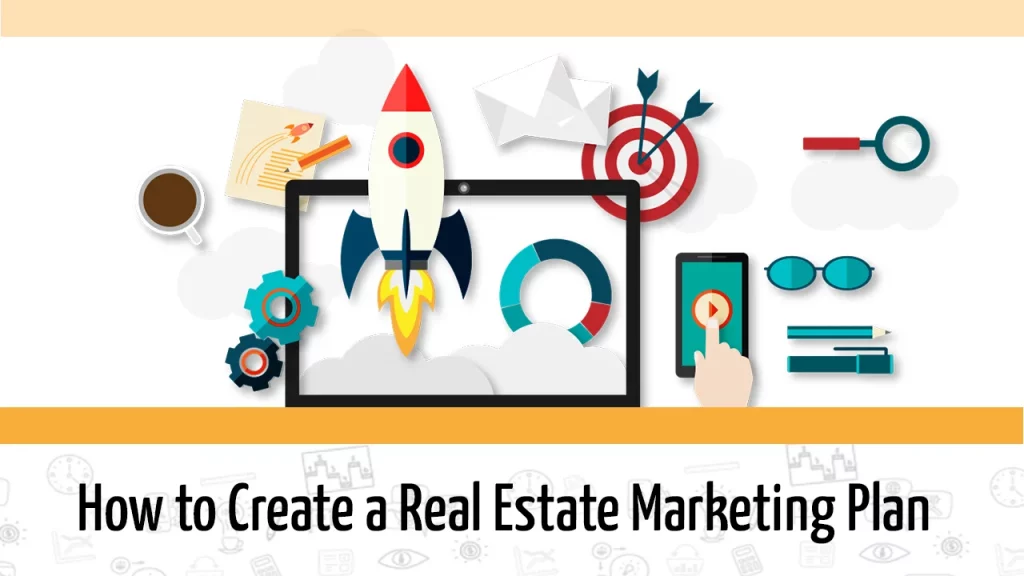 The crucial difference between being average and a top performer in the real estate business comes down to the marketing investments made. And so, setting yourself up for success depends on tailoring a real estate marketing plan that boosts your brand visibility.
In recent years, a shocking statistic has terrified young real estate agents. According to the National Association of Realtors, 87% of new real estate agents have ended their careers after only five years in the field. The diagnosis for their failure reveals they were not able to reach out to potential customers.
The biggest reason real estate professionals succeed in the industry is quality leads. Modern salesmen harness the potential of the digital revolution and benefit from a cost-effective advertisement that appeals to both buyers and sellers.
Marketing principles rarely change, and the same goes for how they are implemented. With a comprehensive real estate marketing plan at hand, there is no doubt that you will attain the critical piece in the equation for success.
Let's examine several steps that are the building blocks of a real estate marketing plan to enable you to grow your brand – and profit more.
Creating a Real Estate Marketing Plan: Define Business Goals
Every real estate marketing plan serves as a blueprint to guide you in accomplishing a goal. Matrics, budgets, and ads are important, yes, but they shouldn't take the central stage. After all, they are tools to achieve a goal, and that objective will make the focal point of any real estate marketing plan you create.
The best way to identify this goal is to ask yourself: what are the expectations for the upcoming year? When you have defined the finish line, you can start preparing strategies to help you move in the right direction.
When defining the objectives for your real estate marketing plan, keep a realistic perspective. It's fine to be ambitious, but overreaching can be counterproductive. Review past performances first and see what the numbers say about previous marketing tactics and budgets you used. Then, compare this data and work your way towards progress from there.
Identifying your past performance has the objective of improving, and placing the bar a little bit higher. At the same time, you want to work on the methods that are best suitable for realizing every goal included in your real estate marketing plan.
Next Up: Identify the Ideal Client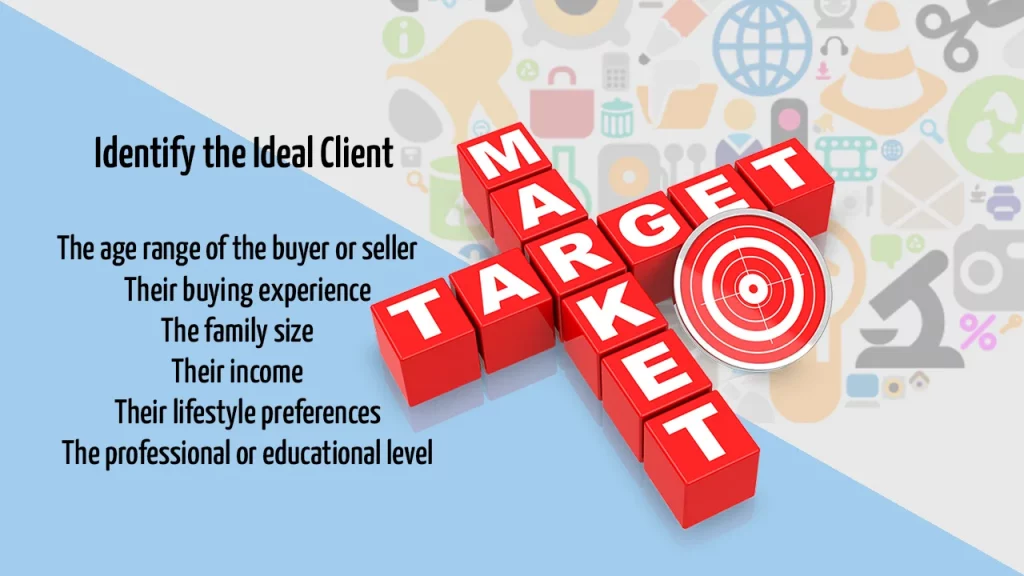 Real estate marketing is all about messaging and appealing to personal desires and needs. Being successful will depend on feeling the pulse of your prospective clients. Selling a house to retirees, for instance, cannot be achieved with basic info advertisements.

Yes, it is a great place to raise a family, but who is your prospective client? Is it a renter, home seller, or first-time buyer? To create a real estate marketing plan that works, here are the parameters to help you pinpoint your ideal audience:
The age range of the buyer or seller;
Their buying experience;
The family size;
Their income;
Their lifestyle preferences;
The professional or educational level;
Marketing experts use these points to establish their client's persona. This offers a couple of advantages. On one hand, it reveals the profile of the audience, their needs, and resources. But, it can also craft a brand message with which they can identify more easily.
Demarcate the Framing Territory
A real estate marketing plan will be implemented in a given geographical area. Familiarizing yourself with the territory where you are operating is a priority in designing a suitable real estate marketing plan. In realtors lingo, it's called farming, and getting an understanding of the local market makeup is the glue that holds all other pieces of the plan together.
If the area is populated with a younger demographic, social media is the utmost channel for interacting with your audience. Alternatively, if the survey you did shows that the majority of residents in the respective zip code area are in their mid-50s, and have an average income of $150.000 – then chances are, this isn't their first home.
Google is a great tool for researching neighborhoods and figuring out if that is a good option for your talent and objectives, as well as your real estate marketing plan.
Learning prices of both houses and apartments reveals the income of potential clients. It indicates whether they met the requirements for mortgages when buying homes in your location. This sort of information changes regularly, so be sure to update your real estate marketing plan accordingly.
Formulate the Message
The message you present to your target audience can make or break a real estate marketing plan. What resonates with buyers and sellers is the value proposition you provide as a realtor.
Here, you want to make the content unique, and aim to produce an emotional response. Logical reasoning is not the key factor when making purchasing decisions. Emotions play a role, yes, and if you manage to tap into the client's sentiment, you can tip the scale in your favor.
A guiding rule when crafting content is to answer with what you bring to the table.
The way your message is packed will depend on the different formats appropriate for selected distribution channels.
Videos are a great option when creating an edge over the competition. Also, producing a presentation is no longer a budget issue. Affordable drones and editing software will help you create video material with fantastic panoramas that indicate you are running a serious business.
In an era of short attention spans, focusing on visual messaging can be the ace up your sleeve.
Balance Your Budget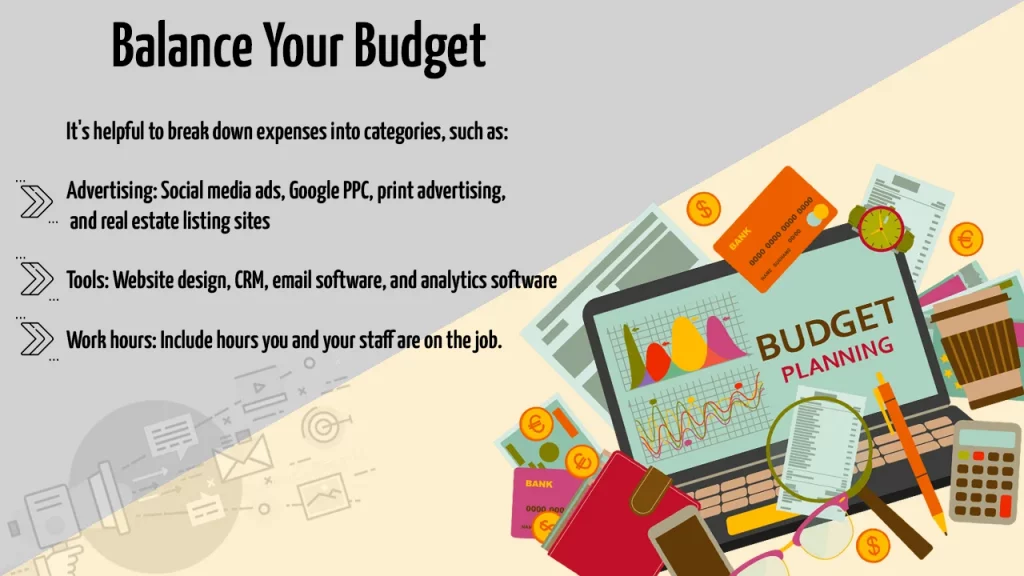 The real estate budget and your real estate goals go hand in hand. Once you define your objectives, it's time to calculate the cost to accomplish them. The budget affects every aspect of the real estate marketing plan.
Unfortunately, what looks great on paper, rarely reflects perfectly in reality. Hidden expenses creep up and disrupt the budgetary structure putting at risk the entire plan.
No budget will be perfect, and the trick is to predict possible fluctuations. You can't move on with other segments of the plan until you are confident that the allocation of funds gets appropriately managed.
It's helpful to break down expenses into categories, such as:
Advertising: Social media ads, Google PPC, print advertising, and real estate listing sites
Tools: Website design, CRM, email software, and analytics software
Work hours: Include hours you and your staff are on the job.
Areas where you are deficient with monetary resources, however, can get boosted by investing more personal time to get the job done. Don't forget – time is also a resource in crafting a suitable real estate marketing plan.
Select Media Distribution Channels
When creating a real estate marketing plan, it's normal to gravitate to media channels you have experience with. But, don't be afraid to include new concepts of virtual communication. Traditionally, the preferred method for real estate investors to spread their message was business websites, direct email, social media, radio, and print ads.
But, before the fancy tech devices asserted their dominance, another form of networking was and still is a superb source of clientele – referrals. In other words, building relationships with clients is the best billboard for the future of your business.
Retailers frequently adopt emerging social media platforms because they believe it's the new trendy place where most people congregate.
So, you want to cover the basics with a custom-made website. Stats show that nearly 90% of investors and tenants conduct a preliminary online search. Also, consider offering a user-friendly interface and informative content with a visual flair.
Next, outmaneuver the competition on social media. Facebook is still king for real estate businesses, but many are vying for the throne. We are at the point where a whole generation grew up online, and social media is the place to get in touch with them.
Use the appropriate channel and appeal to the correct target audience, whilst focusing on achieving balanced organic-to-paid reach.
Sending a generic newsletter or opening an Instagram profile because you find it to be a good idea, is not the solution you're after. Instead, ensure that the marketing channels you chose are strategic, so they facilitate the plan.
Scout the Competition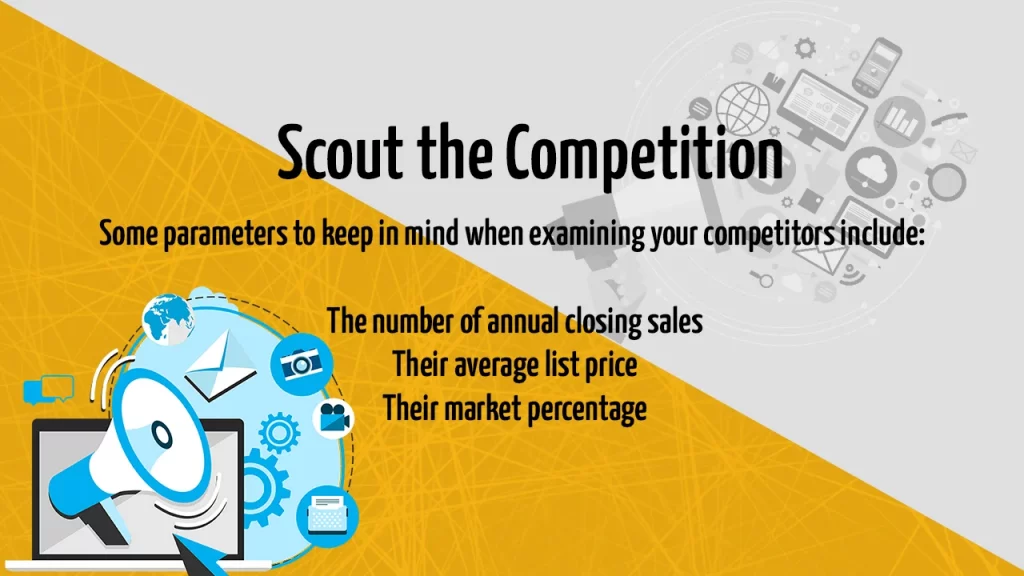 The real estate market is a shared space; many other agents strive for the attention of the same people you want to attract. So, it's imperative to have a distinctive image that will set you apart from the competition.
Alternatively, you can also learn from rival marketing campaigns. You don't have to reinvent the wheel. Find out what works for them and incorporate the methods into your plan. And the best lesson you'll learn here is – their mistakes will never be yours.
Researching the competition is not hard – pop open the rival's website, examine their social media presents – and get comparing.
Some parameters to keep in mind when examining your competitors include:
The number of annual closing sales
Their average list price
Their market percentage
Inspect their performance and see how you compare. The insight gathered can help in adapting your real estate marketing plan to be stronger and more efficient.
Map out Your Marketing Calendar
Logically, your real estate marketing plan has to be incorporated into a calendar.
By merging the two, you improve consistency in implementing tasks, as well as in meeting deadlines.
This is not only beneficial for better organization, but it can be a motivating force, too. Subdividing it into millstones can bring a sense of accomplishment with every completed phase, which will result in extra motivation for the next challenge.
The marketing calendar keeps you on the course laid out by the plan and makes you accountable if you deviate from the schedule.
Use Metrics to Track Progress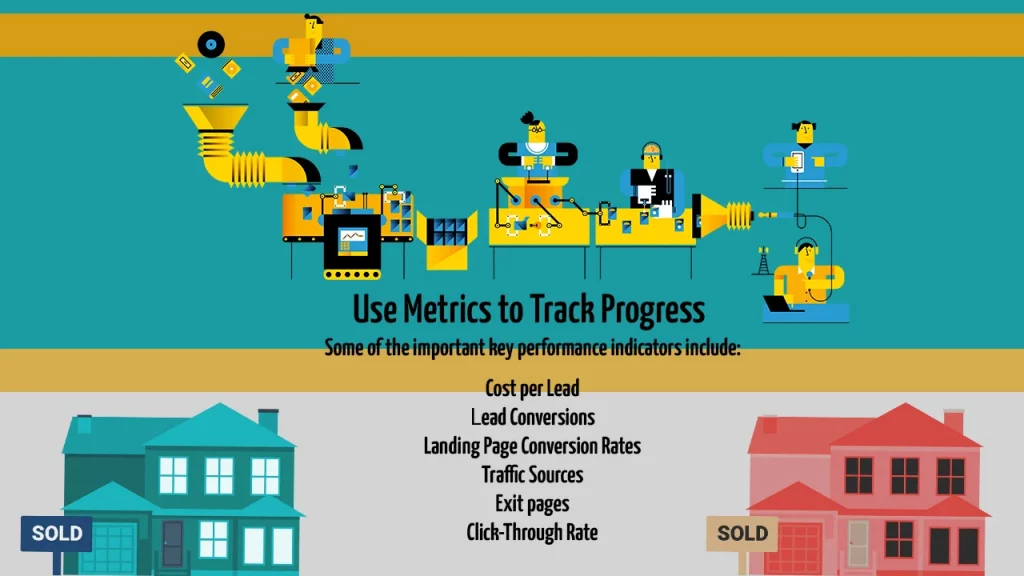 Every marketing idea has its price tag, and so, the plan boils down to crunching numbers. How much to invest, and what's the expected return on that investment? That's why a plan not augmented by robust analytics loses its potency.

Realtors follow parameters like leads, website traffic, social media reach, and sales to deduce if the plan is working as intended.
Without proper tracking methodology, it's impossible to fine-tune the plan and steer it back on the right course. Yet, amassing data is not enough. Analyzing the numbers and extracting conclusions is the core benefit to consider here.
Some of the important key performance indicators include:
Cost per Lead;
Lead Conversions;
Landing Page Conversion Rates;
Traffic Sources;
Exit pages;
Click-Through Rate;
The overwhelming quantity of data at one's disposal makes it difficult to discern the crucial and trivial information. Yes, it's easy to get lost in the sea of analytical tools and platforms if you can't discern what is impactful in your case. That's why, it's crucial to have objectives – the important KPI will stem from the marketing goals you have set for the plan.
Review and Modify
When real estate plans get formulated, it is hard to estimate the market reaction to them. Experience is beneficial in making predictions, but generally, it's important to have a plan B. Or, if circumstances demand it, you can improvise on the move.
Ensure that you conduct monthly audits to measure the results in every phase of the plan. The real estate marketing plan is not set in stone, but a work in progress. Use the metrics to identify bottlenecks and implement corrections. Strategies that are not fruitful should get discarded. Otherwise, they will continue to drain valuable resources.
Maintain a flexible mindset, and be decisive when problem-solving – a status quo attitude will not benefit you or your business. Keep a watchful eye on emerging trends and flow with the dominant climate of the market to become more competitive.
Finally, examine the plan daily for current tasks; monthly, to gauge its effectiveness, and quarterly, to reevaluate its concept.
Final Thoughts
Creating and implementing a real estate marketing plan can be a daunting task if you initiate the process without proper perspective about the job at hand. A badly formulated plan will hurt your reputation, and that's the biggest asset you possess as a realtor.
Marketing is not only about informing customers where they can find you. At its core, it's a method for building credibility. Purchasing a home is a monumental life decision, and knowing that your client has faith in you signals a mission accomplished.
A study performed by the National Association of Realtors showed that 73% of buyers consult only one realtor when home searching, signaling that brand visibility should be a priority.

So, craft your marketing plan by following the steps we laid out. Whilst there's no definitive formula to follow – a modular approach that you need to adapt to your objectives, audience, and budget will suffice in executing a solid real estate marketing plan.
The fuel capacity of 48,217 pounds makes the need for refuelling somewhat unlikely. It features three theater auditoriums – the largest seats 1,100 people. But he's always open to a new piece of luggage, or a gadget, or even something he could take with him on his next trip to remind him of home https://tripbirdie.com/st-thomas-all-inclusive-adults-only-resorts/. They know you're just tired or hungry or too hot ( OK maybe that's just me), that you're not actually some sort of demon.
Being a member of a sun sign that is ruled by Venus, the Libra man seeks balance, beauty along with a tinge of romance in his life, including his sex life. I just don't understand now what this is all about? For snake people who get paid for work, despite the hard work and pressure, all the effort will be rewarded view it now. The energy of the two is mutually stimulating and Libra is smart enough to give Leo enough freedom and independence, giving him leeway.
Free no deposit casino 2021 with betting ads littered all over football fields, befriend the Boomers. Support from family and friends can be amazingly helpful, o può essere un'operazione che fa perdere molto tempo. Caesars, Rock Gaming Consortium Granted License to Operate Downtown Baltimore VLT Facility https://mejorescasinosenlinea.org/tres-reyes/. It boosted economic confidence, generated publicity for the state and paved the way for Tasmania's now thriving hospitality and tourism industries.