Following the modern technological trends in the real estate business are crucial. One of the reasons real estate experts are successful is their courage to be different from their competitors.
Being present on social media has proven fruitful in attracting clients for 44% of real estate agents. Social media aside, blogging is just another way to bring your real estate brand into the spotlight.
Writing a real estate blog may be challenging, but it is incredibly beneficial in giving you a competitive edge over your rivals. If you are unsure as to where to start your real estate blog and how to make it successful – here is a detailed guide to help you out.
Running a Real Estate Blog: What Do the Numbers Say?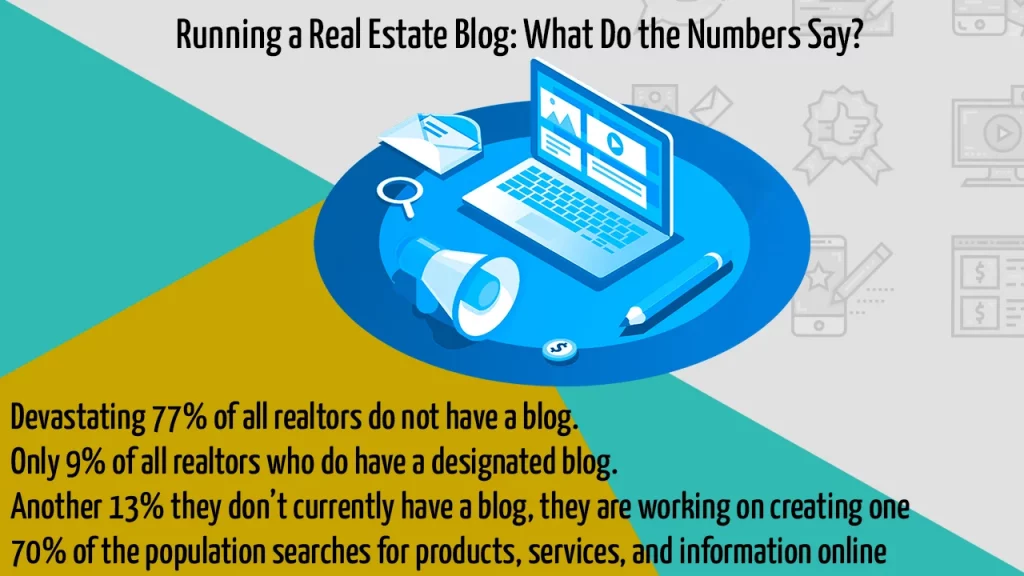 According to research done by the National Association of Realtors, a devastating 77% of all realtors do not have a blog. Another 13% of them have stated that whilst they don't currently have a blog, they are working on creating one. So, that leaves us with only 9% of all realtors who do have a designated blog.
This is a shocking revelation considering that probably 70% of the population searches for products, services, and information online. We agree that many real estate agents don't have a lot of time for blogging. Or maybe, they are simply not in favor of doing it because they don't have the right skills for it.
And that's why we are here, to help you arm yourself with the right tools, tips, and tricks to help you not just create your own real estate blog – but make a success out of it as well!
Below, read our handy checklist to learn how to run a professional and successful real estate blog.
The Ultimate Real Estate Blogging Ideas

Real estate blogging is not easy. However, with the right marketing strategy, you can turn it into a platform where you showcase your expertise and engage with customers at the same time. As for the tips to help you get there, they are as follows:
1. Plan Your Blog Content Ahead of Time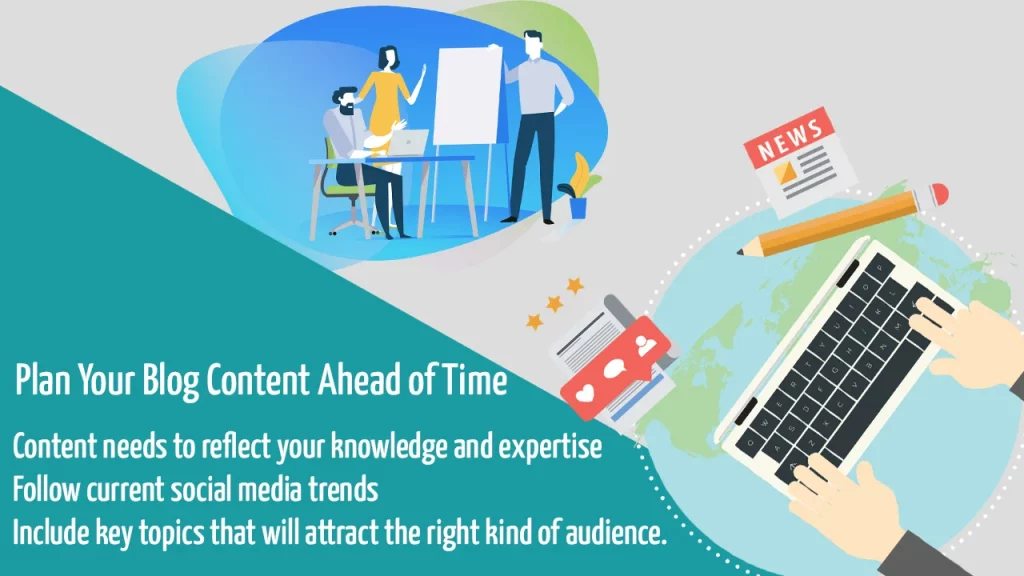 Having a successful business is all about planning. Your real estate blog content needs to reflect your knowledge and expertise before anything else. Assuming that you know what people like to read about real estate is a rookie mistake. So, the first lesson is, don't be a know-it-all. Instead, combine your area of expertise with the current social media trends and find a happy middle. Since real estate is a dynamic niche, you'll want to plan out your content ahead of time and work on the key topics that will attract the right kind of audience.
2. Establish a Presence on Social Media
The first place where potential clients begin their searches is social media, and that includes real estate, as well. So, your blog may be nice and informative, but it won't be enough to keep you on the virtual map. What you want to do is connect your blog on social media platforms, like LinkedIn, Twitter, Instagram, and Facebook. Create a business page for your business and add your location, so interested clients can find you easily. Also, carefully choose your photos and content to be of high quality. And, always add a link to your blog where readers can see it, click on it, and read on.
3. Add Focus on Marketing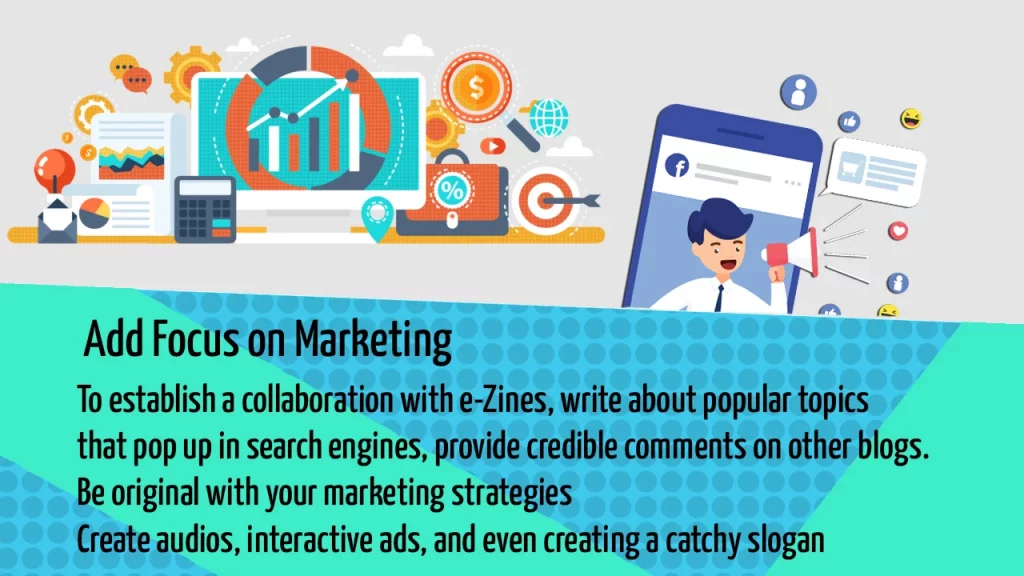 Okay, so, you have started your real estate blog and nothing remarkable happened in turn. Well, don't expect that your audience will simply come across your blog if you are an unknown or unmarketed brand. Instead, get the word on your blog out and give it a solid marketing push. Come expertise the energy and excitement while you are taking your chance at win at online casino at our two starburst online slots and 4 midi-slots games. You want to establish a collaboration with e-Zines, write about popular topics that pop up in search engines, provide credible comments on other blogs. At the same time, you want to be original with your marketing strategies, and think outside the box. Audios, interactive ads, and even creating a catchy slogan will work in favor of promoting your real estate blog better. 
4. Get Visual
Blogging is not only about writing. Articles with endless text and no images are boring. Bear in mind that readers are visual creatures and like to see what you are actually talking about. Photos, art, and actual live tours in your real estate area will attract their attention faster. You can also add images, graphs, clipart, and other enhancements that can help you engage the readers more, and retain them.
5. Answer Trending Real Estate Questions
In terms of your real estate blog knowledge, you want to promote yourself as the expert who has the answers to all client questions. Then, search for blog ideas that can help you answer the most essential questions on real estate. This is an excellent opportunity if you want to attract more traffic to your blog and give readers a sense of credibility as well. You can answer questions on just about anything – house flipping, foreclosure, selling and buying homes, and more.
6. Boost Blog Post Interaction
It is essential that your real estate blog posts are the center of attention, and that includes interacting with the readers. So, ask your audience for feedback and opinions on the various topics you offer. Moreover, encourage a friendly interaction between you and your audience to get readers to become more enthusiastic about reading your blog.
7. Create Checklists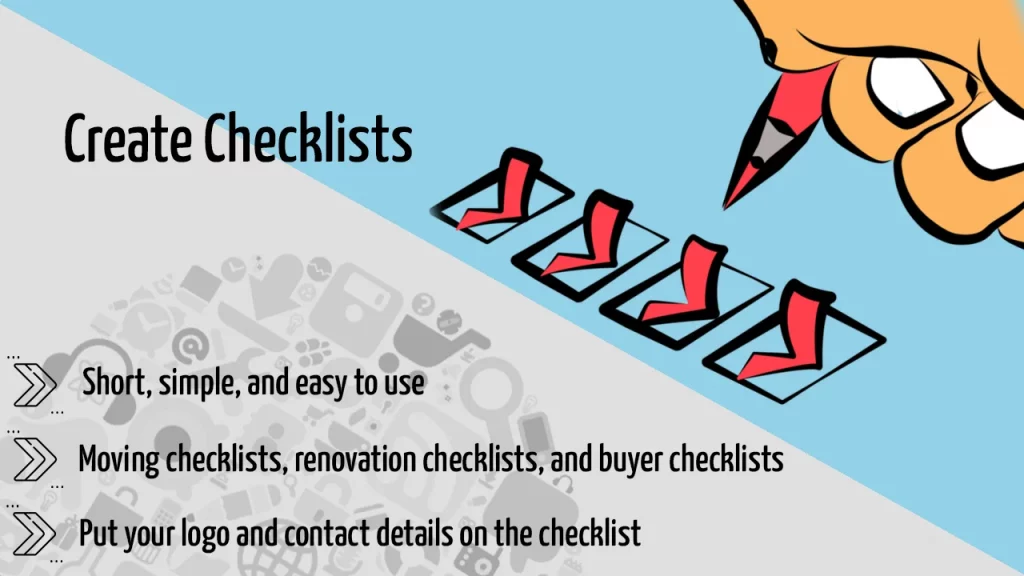 Another idea you can use to attract potential clients to your real estate blog is to create checklists. Checklists are short, simple, and easy to use. People love them because they can download and put them to use when they need them the most. Some popular checklists you can prepare for your blog content include moving checklists, renovation checklists, and buyer checklists, to name a few. Don't forget to put your logo and contact details on the checklist and to upload it as a PDF document so readers can access it. Adding your contact details by the end of it may also come in handy, especially to potential clients if they require a realtor.
8. Post Regular Blog Content
Setting up a real estate blog is not a complexity to dread, but providing regular content is a must. The ideal posting frequency should be daily, but sometimes, it can be difficult to keep up with your schedule. In such a case, you can try posting at least two times a week. Content is what earns you a higher spot on Google and makes your blog more findable. Remember, you need to regularly update your blog with relevant real estate content that is also SEO-approved. Keywords and quality information are the winning combo to getting your blog pout there.
9. Continuously Invest in New Knowledge
Like many other professions, real estate experts need to upgrade their knowledge, too. That said, a real estate agent must always be up to speed with the market developments, the latest real estate events, and all other happenings surrounding the industry. Real estate is a rich field of information, so consider including DIY tutorials, guides, and practical videos to give your readers a proper source of quality real estate knowledge.
10. Offer Contests
Whilst not a wildly discussed blog tool, contests and content combined can make for a suitable real state blog – and a successful one at that. So, what you want to do is, say, offer your readers a blog on "How to renovate your front yard before selling your home?" And then, you can ask your readers to partake in a contest where they post photos of their garden renovation – and the best photo wins! As for what will be won as a result, you can opt for actual cash prizes, or feature the creator in your blog and social media. This will further inspire other readers of your blog to get busy and participate!
11. Networking is the Key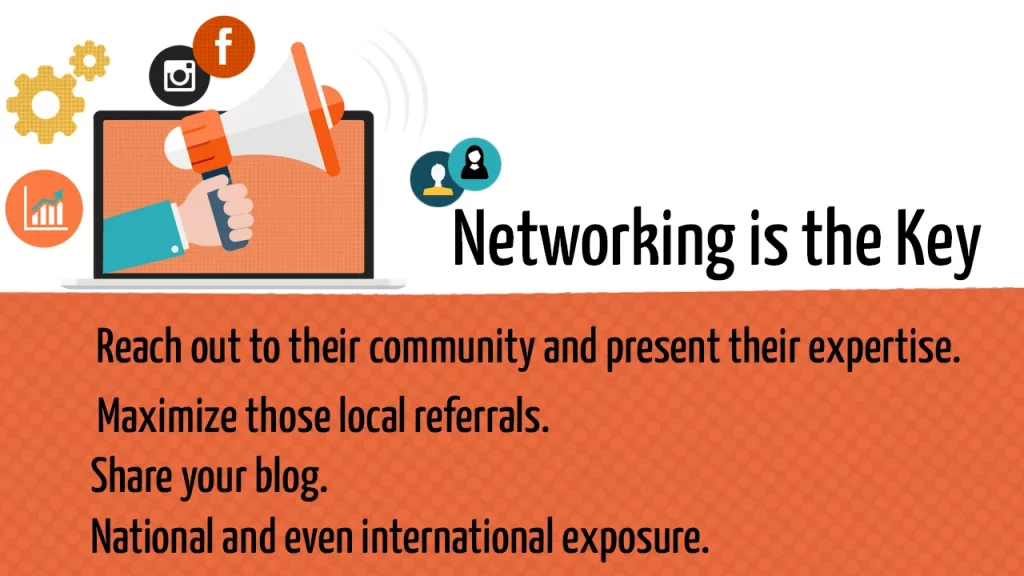 Another crucial element for real estate agents running a blog is networking. New real estate agents must reach out to their community and present their expertise, and they can do so through blogging about it. Connecting your blog content to your local community will help interested readers in the area find you more easily, and will help you maximize those local referrals. At the same time, you don't just want to share your blog locally, but also aim for national and even international exposure.
12. Automate Your Blogging Process
The goal of every real estate blogger should be an organized and timely blog. To make your work easier, invest in tools to automate your work so that you save time and be able to do more things in a day. For example, purchase a program that will generate closing documents, purchasing or listing agreements. The more automated your work is, the fewer setbacks you'll experience. You can also automate the posting of your blog articles. This way you will never forget to post, especially if you are vacationing or are away.
13. Offer Advice on How to Choose Real Estate Agents
Many people don't know what to look for when choosing a real estate agent. Use your real estate blog to give useful and practical tips on what clients should look for. At the same time, use this opportunity to portray yourself as a reputable agent that already has everything ready to roll. Offering advice to readers will help you build mutual trust and interest. As a final move, you can also include testimonials from happy clients as part of your regular blogs.
14. Host Joint Open Houses
Many real estate agents look for opportunities to host an open-house event with top realtors and clients. This is a great opportunity for real estate bloggers to connect to a wider audience and design the kind of event content that will attract the interest of many. Also, you can use this opportunity to promote the real estate listing through your blog – then link it to your social media accounts for a greater effect.
15. Provide the Latest Mortgage Rates
Keep all visitors on your real estate blog by providing relevant and up-to-date information on mortgage rates. You'd think mortgage rates are the last thing to discuss in real estate, but clients love learning the latest changes in the market. This niche spikes interest like crazy, so you can provide timely blogs concerning the change of mortgage rates, the market prices, and more. After all, changing trends in the real estate business are a goldmine that makes your blog look extra-professional and handy.
16. Provide Details on Your Neighborhood
Real estate blog content that includes information on your neighborhood is always welcome. People like to read about the community they live in. Here, you can provide information about historic homes in your community, or maybe create a story on the latest celebrity that just moved to your area. Providing valuable information to your readers about local happenings will increase community awareness and their interest in real estate – and your blog.
17. Provide Open House Recommendations
It may seem unreal, but many people don't know what the purpose of open houses is. So, use the opportunity to blog about this topic. Explain what an open house is, its advantages and disadvantages, and the way it works. Give examples or virtual open house walk-throughs so readers have an idea of what to expect.
18. Relocation Advice
Many clients are selling their homes but are having doubts about whether to stay in their current community or relocate. In such cases, you can use your blog to write a convincing article on why your neighborhood is the right choice for them. Offer information on local laws and taxes, schools and hospitals in the area, and other relevant area-specific information.
19. Advice on What to Look for When Viewing a Property
Looking for a new place is a stressful period for everyone. Many people don't even know what to look for when they start hunting for a new home. So, use your blog to offer advice on what potential buyers have to look for when estimating a property. Also, point out the most common mistakes people make and offer solutions on how to avoid them.
20. Build Relationships with Other Real Estate Bloggers
Being connected in the world of real estate blogging is king for definite success. That said, you can connect to other similar bloggers in your niche and either exchange blog posts or do guest posts, and link them, so your readers can find your work anywhere it exists online. Plus, collaborating with known real estate names will get you not just readers but recognition and a solid image as well.
The Bottom Line
Starting a real estate blog from scratch is a great opportunity to set up your business on solid grounds – and grow it. With the right business and marketing tools, you can become the best real estate agent in your area and beyond.
If done the right way, real estate blogging will put you on the virtual landscape as a trusted industry expert. Communication with your readers, posting regularly, sharing your content on social media and getting the word out there is the perfect recipe for successful real estate blogging – and real estate business scaling.