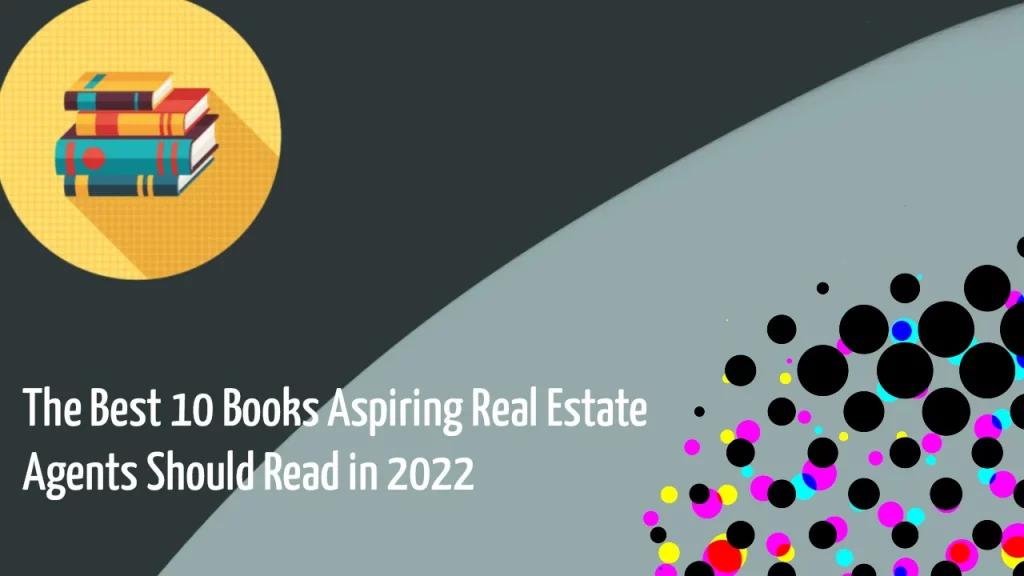 If you aspire to get into a real estate career, you have probably reached out for books on the matter. While this is a great way to go, many experts and authors have written excellent books on real estate. Searching by keywords will get you more than 60,000 results just on Amazon, so it's normal for beginners to hesitate where to start.
A fair share of written real estate guides goes unnoticed on the market despite containing some pretty important advice. In these unstable times for the worldwide economy, more people invest in real estate. Therefore the need for commercial and residential real estate books has increased.
Our editorial team has chosen the best books for real estate agents based on personal experience in the industry. In this article, we will review the top 10 best books for new real estate agents and investors who aim to expand their real estate portfolios.
7 Habits of Highly Effective People by Stephen Covey
While 7 Habits of Highly Effective People will take you on a trip down memory lane to the late 80s and early 90s, Stephen Covey's advice is universally applicable in the real estate field.
This archetypal guide paints the concept of successful work ethic as an easy mathematical formula. According to Covey, you can grow into a perfect worker by working out the amount of time spent on work vs. the amount of time you spend on caring.
Stephen Covey offers you 7 main habits as a part of a favorable professional mindset. These habits include crucial points, such as taking a cooperative approach with your team members and importance-based activity ranking.
According to Covey, having a practical and proactive mentality is the key to problem-solving and building a successful career. The game-changing detail is to keep in touch with the real estate rainmakers in your workplace. Following the 7 habits stated in this guide, you're a big step closer to becoming a successful real estate agent.
Rich Dad Poor Dad by Robert Kiyosaki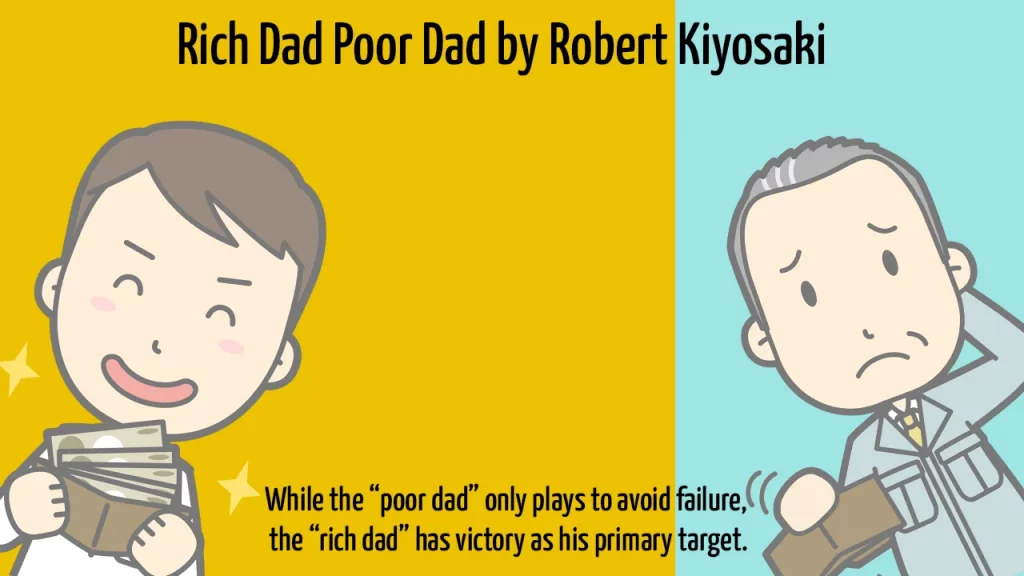 As the title itself implies, in Rich Dad Poor Dad, Robert Kiyosaki investigates the mindset of the rich as opposed to that of the poor through the perspective of fatherhood. The main point that the author aims to convey is that poverty is just a matter of mindset that can be overcome through convenient, inspirational parental upbringing.
The wisdom Kiyosaki wants to pass on the readers through his fictional fathers can help anyone regardless of age. While the "poor dad" only plays to avoid failure, the "rich dad" has victory as his primary target. By following the right advice, the protagonist is bound to achieve their goal – becoming a wealthy and stable entrepreneur.
Rich Dad Poor Dad is an essential piece of writing that will set you in the right mindset before exploring other real estate or sales literature. This groundbreaking guide will give you some valuable insight into the monetary game of the real estate industry and prevent you from getting tricked as many beginners do.
How to Win Friends & Influence People by Dale Carnegie
When we talk about best books for real estate agents, Dale Carnegie is an inevitable name worth mentioning. A set of comprehensive real estate books for beginners wouldn't be complete without his iconic How to Win Friends & Influence People.
Originally published in 1936 and later revised in 1981, this book has been influencing people's approach to better social interaction for approximately eight decades. By following the rules that Carnegie outlined in this book, you are likely to get more likable to acquaintances in your personal and professional life.
The author's philosophy is quite simple yet effective. Carnegie focuses on a set of little everyday niceties and agreements that puts the reader in an empowering mindset of having control over most social situations. All these decades after, the impact of this guide in contemporary business culture is tremendous – so, even if you cannot truly follow Carnegie's advice, it's helpful to acknowledge it
The concept of "putting yourself in someone else's shoes" is much more than just proverbial – as Carnegie implies, it's vital for a beginner in any professional environment.
Communicating properly with people of different personality types and recognizing their points of view is crucial in the real estate business. Gaining strong communication skills as a beginner in the industry will help you master your craft in every sense of the word.
Grit by Angela Duckworth
The next title among the best books for real estate agents is written by a prominent teacher, psychologist, and business consultant.
Growing up as a daughter of a scientist, Angela Duckworth has gained valuable insight into the mindset and lifestyle of rich people. In Grit, she narrows down the path towards professional brilliance to simpler ingredients rather than genius.
It's no wonder that the majority of successful business people have Grit on their bookshelves. This guide effectively explores entrepreneurial success from a psychological aspect. Duckworth identifies the key features that separate the winners from the losers and advises her readers on how to change the traits that can put them among the latter.
As a future real estate agent or a beginner in the industry, the prospects of this career may naturally give you a strong sense of excitement. Nevertheless, this enthusiasm tends to fade after the first year or two of an average real estate agent's career. Duckworth's precious advice will put you in the right mindset and help you overcome the infamous "trough of sorrow."
Harvard Can't Teach What You Learn from the Streets: The Street Success Guide to Building Wealth through Multi-Family Real Estate by Sam Liebman
As opposed to most of the best books for real estate agents, this guide comes fresh out of the oven – published on January 11 this year. This book is the first-person story of Sam Liebman, founder, and CEO of WealthWay Equity Grop LLC.
With this guide, Liebman wants to emphasize the importance of informal education and experience in real estate. According to the author, owning a home, obtaining a license, or getting into a wholesale investment is just the start of a potential groundbreaking career in real estate.
Having risen to fame through building a luxury condo thanks to a $100m sellout from Manhattan's vacant strip of storefronts, Liebman is widely known as a "rubble to the ritz" entrepreneur.
The Sell: The Secret of Selling Anything to Anyone by Fredrik Eklund
Around a decade ago, Fredrik Eklund left his native Sweden and moved to New York with merely a pair of worn-out sneakers and an ambition to fulfill the American dream – to make a brand for himself in The Big Apple.
Soon after becoming a citizen of New York, he became a big name in the ruthlessly competitive real estate market. Eklund started successfully selling properties in the city, brokering astronomical bargains for actors, and became a Bravo TV star in the reality show Million Dollar Listing New York.
With The Sell, Eklund aims to share his secrets and help people worldwide pave their way to success while doing what they love. According to him, you don't even have to consider yourself a good salesperson – you're regularly selling your main asset anyway, which is your own self.
Whenever you influence someone on a certain matter or convince them for material exchange, you're already acting on your inherent sales potential. The main point of The Sell is to teach you how to channel that potential and turn it into a success story on the market.
The One Thing by Gary Keller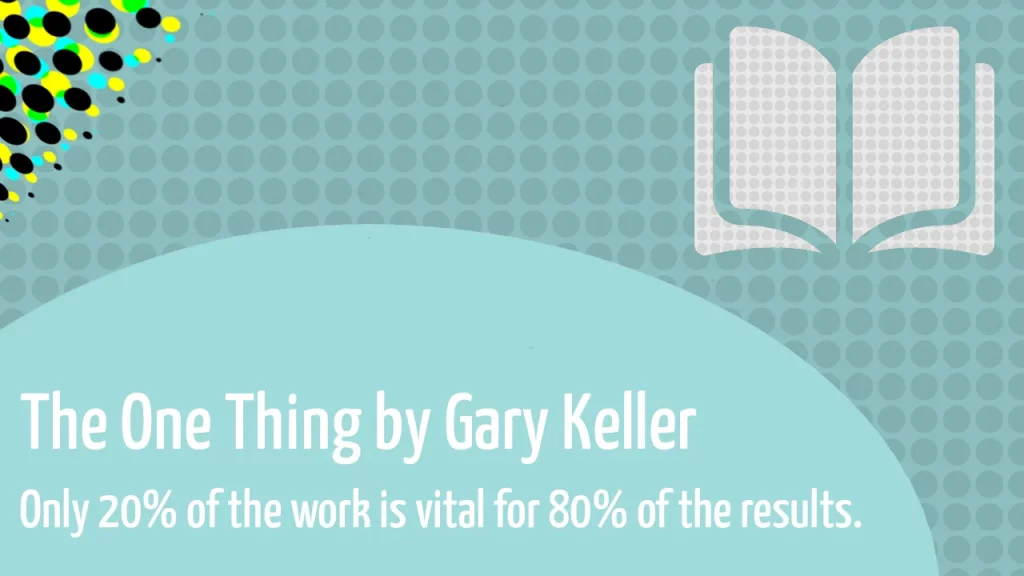 Imagine that you can finish one crucial task and therefore make the rest of your work completely redundant. In this guide, Gary Keller dives into this appealing concept of a time-saving work mentality that's becoming increasingly popular in business.
A famous business philosophy suggests that only 20% of the work is vital for 80% of the results. Gary Keller, founder of Keller Williams – the largest real estate company in the world by agent count – takes this ratio much more seriously than a mere stroke of luck.
In The One Thing, this prominent entrepreneur aims to help you fully reorganize your workday with a strong accent on proper focus and scheduling of your tasks.
The majority of beginners in the real estate industry work on a pure commission pay structure, so time is the most valuable asset in this period of your career. It is crucial to prioritize particular business practices to save time and gain more profit.
Brokers Who Dominate by Rod Santomassimo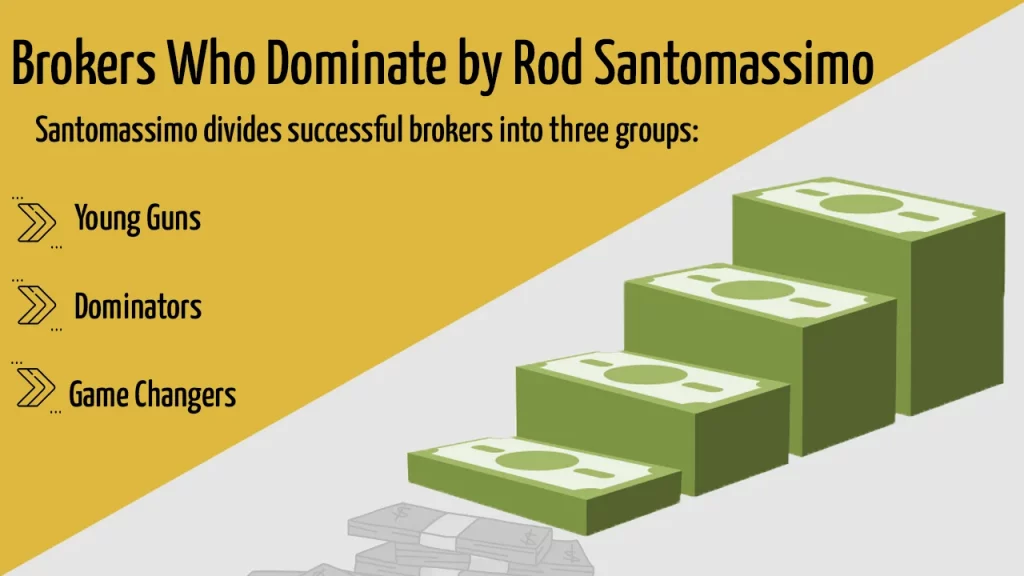 If you need a valuable lesson about the essential traits that make certain sellers stand out from the competition, Brokers Who Dominate is a must-read for you.
This best-selling real estate guide explores the various kinds of dominance in the industry hierarchy – so, no matter what level you're currently on, it can help you level up your business game.
Santomassimo divides successful brokers into three groups: the Young Guns, the Dominators, and the Game Changers. The guide is inspired by real examples of brokers that the author puts in each of the aforementioned categories and includes the secrets for their success. Ideally, a prominent broker should have characteristics from every profile and channel them at certain career stages.
By giving several acclaimed brokers a chance to share their stories, Brokers Who Dominate stands out as a useful guide for young agents that lack the required communication skills and sales skills for a successful career in real estate.
Santomassimo offers a solid understanding of the conditions in this highly challenging field, which is why this guide has a special place among the best books for new real estate agents.
The Millionaire Real Estate Agent by Gary Keller
Truth be told, as it goes in every other industry – most people get into real estate for the financial prospects. However, the next guide on our list focuses on the notion that money isn't the only purpose of this business.
In The Millionaire Real Estate Agent, Gary Keller aims to provide beginners with a road map to prosperity and excellence. Although the famous entrepreneur takes a money-second approach here, this best-seller still offers a business structure to bring you enormous profit.
According to Keller, working on your mindset and prioritizing excellence is bound to pay off and bring monetary prospects. Gaining satisfactory profit is just a natural result of dedication and the constant pursuit of entrepreneurial brilliance.
Once you establish a favorable mindset, getting into the most effective practices in the real estate market is a much easier task. Gary Keller is a pioneering figure in the industry, and the advice included in this book is invaluable for commercial and residential real estate agents.
The Go-Giver by Bob Burg and John David Mann
The Go-Giver is one of the essentials that every successful real estate agent keeps in their bookshelf and comes back to. Bob Burg and John David Mann's bestseller explores the concept of leading with value and its importance in the progress of a real estate company.
This guide conveys a message about transferring the focus from getting to giving through the eyes of an ambitious young man named Joe. Taking the old proverb "give and you shall receive" as a vital formula for business ethics, Burg and Mann create a whole new set of values in the industry.
What makes this book appealing is the simplicity of the writing style merged with an empowering and confident approach to the values it preaches. Every real estate agent will profit from the wisdom contained in this guide.
Final Word
These are the ten best books for real estate agents that will strengthen your entrepreneurial spirit and help you make a brand for yourself in the industry. The wisdom conveyed by these prominent authors will educate you on improving your communication skills, productivity, and overall professional attitude.
All of the lessons contained in these guides have helped many real estate agents in their early days, so it is wise to get them on your bookshelf, Kindle, or Audible. As soon as you apply the knowledge you acquired from these books, you're bound to fulfill your ambitions. And from there – only the sky is the limit!